Discover more from cosmic playdate
a newsletter for grown-ups looking to connect with their kids through art and play.
playrooms, a print and a prompt
monday dispatch no. 4
Can I come over?
A moodboard of playrooms I can't get out of my head.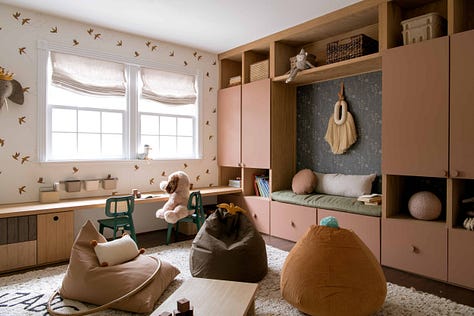 Want to see more playrooms? Click here!
---
A sweet print for your little Valentine
I made a print! Surprise a special someone with this unique gift on Valentine's Day. Hang it on a wall, or follow my lead and use it as greeting cards for your little one's class.
The print features a customizable illustration of a kiddo lovingly holding a jar of jam. You will receive a 10" x 10" digital file via email within one day of purchase. This limited offer will be available until February 14th, 2023.
Would you like a fully custom illustration instead? You can get one here!
---
A prompt
Ever since I was a teen I have been writing down 12 resolutions on New Year's Eve. I try to focus on one per month as the year goes on. This is a tradition I inherited from my Venezuelan family's custom to chow down grapes on New Year's for good luck. Although this ritual served me for longer than I can remember, I couldn't manage to gather the energy to follow through this past December. Moved by the force of habit the last day of 2022 I wrote down one simple prompt: To Love. I wasn't trying to be clever, I was just tired. The day had come and gone with me trailing after my daughters, trying to cook something decent and managing to get everyone dressed for our 6pm celebration to ring some other country's midnight clock before the kids had a meltdown—but I digress.
Journaling through this prompt has proven to be of great service to me these past weeks. Which is why I felt called to share it with you. The exercise in reflecting on what I love, how I love it, how I show it, and within which boundaries I choose to do so, has steered me into channeling the Emilia within—a more curious, more devotional part of myself. Winter days feel a little lighter when I concentrate on the comfort of my weighted blanket. Tantrums feel less acute when I focus on how much calmer my daughter gets when we "play yoga" before bed. My seasonal sadness still hums underneath the surface, but this time I have chosen to collect pictures of cozy playrooms instead.
So I'm curious—what does this prompt spark in you: To Love? What do you find easy to love and what do you find difficult (but necessary) to care for?
Let's discuss. I'll be reading you in the comments!
---
One last thing…