Discover more from cosmic playdate
a newsletter for grown-ups looking to connect with their kids through art and play.
summer rituals, product updates and yummy treats
monday dispatch no. 5
Summer Rituals
As the sun stretches its rays a little longer each day, the promise of summer becomes increasingly real. Memories of my childhood spent at my grandma's house on Margarita Island come flooding back, as vivid as ever. I can still feel the warm embrace of the island breeze, a gentle caress that greeted me the moment I stepped off the plane to stay with my grandparents during those cherished summer breaks. The soft sand beneath my toes and the ringing of my cousins' laughter echoing through the seashore have become timeless imprints on my heart.
One of my most cherished rituals was the leisurely stroll down to the beach, just a block behind my grandma's house. Every morning my grandma and I would eagerly make our way toward the soothing sound of crashing waves. My mission was to collect chipi-chipis, edible saltwater clams that my beloved Abi, short for Abuelita, would magically transform into a flavorful broth for our lunch. At noon, as the busy house took their seats around the table, my grandma would exclaim, "¡Buen provecho!" and proudly announce to all the guests who had gathered the ingredients for the meal, an acknowledgment of our shared morning adventure.
I can still picture Abi's graceful stride—her agile and commanding presence—guiding me along a desire path that led us to the nearest beach. Armed with a large bucket, ready to unearth tiny mollusks from the shore, I could barely stand still for the final touches of sunscreen that my Abi applied with haste, ensuring my cheeks and shoulders were protected from the prickly Margarita sun. And, of course, she always carried a large woven blanket, a comforting companion that seemed giant to my six-year-old self, even though reality would likely prove otherwise. So with dubious amounts of sunscreen, yet an insatiable yearning to dance myself clean to the ocean's song, I would race along the toasty sidewalks, curling my toes to avoid losing my sandals in the rush of the moment. That first step onto the silky sand would instantly transport me to my happy place—a feeling that remains etched in my soul. How I long to return, to walk alongside my Abi once more, towards the holly grounds that turtles trust to lay their eggs on, to seek refuge in that cherished shady corner by the palm tree where the big blanket was laid, and we set camp for the morning.
Now, as a mom of two little ones on the East Coast, the season feels alien at times. I yearn to recreate the same sense of wonder and adventure I once enjoyed during those glorious summers, as I chase waves alongside my daughters, applying overly-cautious dollops of sunscreen to protect their skin. I view the warm days ahead brimming with promise. As a precious opportunity to introduce my little ones to the enchantment of my heritage—to nurture their love for exploration, to embrace their inner mermaids (or baby sharks). And above all, to deepen the timeless bond of unapologetic fun that can only be found in the exhilarating pursuit of escaping a cold tide rolling in. This summer, I'll be at the beach. Building castles, picking shells, and sharing stories of Abi and me playing on the Venezuelan sand.
---
All wrapped up for summer
With all this in mind, I'm excited to announce that I'll soon be launching a collection of woven blankets inspired by that big, comforting throw my Abi used to carry. So keep your eyes peeled for this special release on June 10th, and let the warmth of summer and the coziness of our blankets bring joy and comfort into your homes.
---
5 simple summer treats
Memories of my Abi's extraordinary culinary creations are forever lingering at the tip tongue, inspiring this mouthwatering list of summer treats. So here are five simple and healthy recipes that encapsulate the essence of joy and nostalgia that only summer can bring.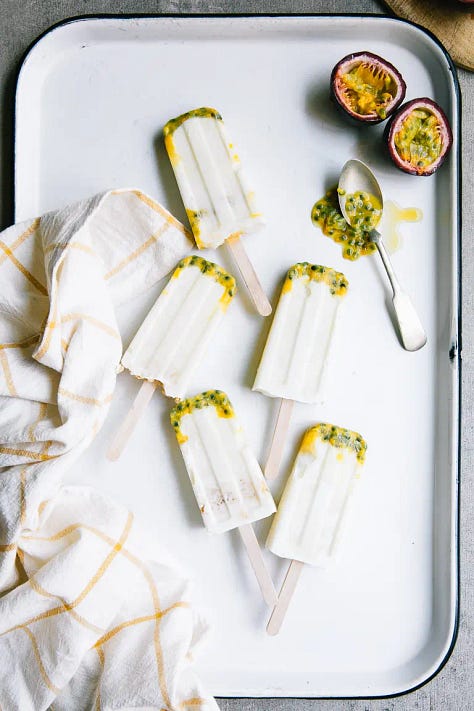 Follow me on Pinterest to see more.
---
One last thing…
Have you discovered my alphabet project yet? It was born out of a deep desire to empower children by given them language that fosters self-compassion and positivity. I illustrated a series of 52 images combining typography and animation, with the hope to showcase the enchanting qualities and limitless potential inherent in every child. In next week's long-form edition of this newsletter, I'll dive deeper into the fascinating journey behind this project, revealing the behind-the-scenes process and sharing the story behind it in detail. In the meantime, you can take a look at the entire series on my instagram…
But before we embark on that journey together, I need your input! I invite you to lend your creativity and imagination. What do you envision these pieces transforming into? Let your ideas soar as we collectively shape the future of this remarkable project.
Thank you for reading. If you love this newsletter please share with someone who might love it too. It helps me a lot!